The best Thai cookery school
About us
The best Thai cooking school is located 13kms away from busy Chiang Mai in peaceful and relaxing surroundings, where we grow many of the herbs and spices used in our classes. We offer and open air kitchen in a farm atmosphere where you have your own cooking station, knife wok and scrupulously clean utensils where your will be able to create all your own amazing sauces and typical Thai dishes.
Morning Course

08.30 am. - 02.00 pm. (Daily)
Evening Course

03.30 pm. - 08.30 pm. (Daily)
Look at our reviews
Reviews
WHAT YOU WILL GET
Long experience teachers.
Eat all the food or take away.
Color cooking book.
All ingredients for cooking.
One work per one person.
Free wifi internet.
Free transportation. (within 4 km. in Chiang Mai downtown).
Free coffee, tea, water.
FEEL THE TASTE.
Good memory of thai cooking and thai smile.
Reasonable price.
Learn more dishes as you can.
Small class 2-9 people.
Good location the best thai cookingschool is located 13 km. away from busyChiang Mai and relaxing surroundings, where we grow many of the herbs and spices used in our classes. Fresh air, clean kitchen, clean toiles. Mountain view 360o.
WHAT YOU WILL LEARN IN HALF DAY
Learn how to select good ingredient (market tour).
Learn how to make up.
Learn how to make stir-fried.
Learn how to make curry paste.
Learn how to cook curry.
Learn how to cook Pad thai.
Learn how to make papaya salad.
Learn how to make sticky rice with mango.
Best offer in Town and Best Choice for you.
Menu in Course
The Best Thai Cookery School
VDO Clip
BURNING DOWN THE KITCHEN
---
I actually cooked some decent food for the first time in my life. 10/10 would raise my cooking skill level again in the future.
GO Uncover | Thai Cooking Class
---
Travel Journalist Christy is in Chiang Mai at the 'Best Thai Cookery School' headed by resident chef, Prempoon Nambian with her Contiki buddies. She begins her day by learning about the raw ingredients used in Thai dishes then heads off to the paddy fields in attempt to cook a Thai meal all on her own. See how well she does!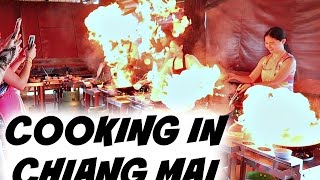 HOW TO COOK THAI CURRY
---
HOW TO COOK THAI CURRY // CHIANG MAI, THAILAND | ALEC MERLINO
The Best Thaicookery School
Article Cooking
Khao chao, breakfast dishes, for Thais are limited. Very often, a Thai breakfast can consist of the same dishes with rice which are also eaten for lunch or dinner. Single dishes such as fried rice, noodle soups, and steamed rice with something simple such as an omelette, fried/grilled pork or chicken, or a stir fry with vegetables, are commonly sold for breakfast from street stalls as a quick take-out.
Thai food is internationally famous. Whether chilli-hot or comparatively bland, harmony is the guiding principle behind each dish. Thai cuisine is essentially a marriage of centuries-old Eastern and Western influences harmoniously combined into something uniquely Thai. Characteristics of Thai food depend on who cooks it, for whom it is cooked, for what occasion, and where it is cooked. Dishes can be refined and adjusted to suit all palates.
Thai cooking places emphasis on lightly prepared dishes with strong aromatic components and a spicy edge. It is known for its complex interplay of at least three and up to four or five fundamental taste senses in each dish or the overall meal: sour, sweet, salty, bitter, and spicy. Australian chef David Thompson, a prolific chef and expert on Thai food, observes that unlike many other cuisines Thai cooking rejects simplicity and is about "the juggling of disparate elements to create a harmonious finish. Thai chef McDang characterises Thai food as demonstrating